The Mid- Somerset Wargames Club is a well established group of like minded gamers, who meet every Thursday from 7 pm at Seager Hall in the City of Wells.
The Club has a large and diverse membership, who play a wide variety of tabletop wargames, boardgames, cardgames and role-playing games. There are multiple tables to set up on plus a large selection of terrain is available for any member to use so you don't have to worry about bringing your own.
The Club promotes an open, friendly atmosphere where all gamers are welcome, if you are new to the Hobby and want to come and see what it is all about then feel free to pop down and join in with our fortnightly organised game. These games are run by club members as an open participation, for anyone who wishes to play.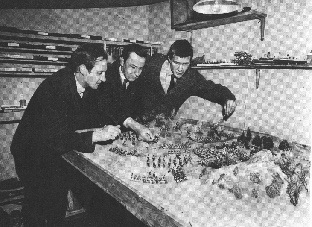 Mike Warman started the Club in 1964 in Street, Somerset. Games were played by these early members using the sand table in his shed. Airfix plastic, American Civil War and Roman Figures were the Order of the day, before Hinton Hunt Napoleonic figures arrived in 1966, the metal age had arrived.

The Club outgrew the Shed and moved to the Red Lion Pub in West Pennard, Somerset where it's greatest fall took place. Two 12' by 6' Sand tables were constructed in the Upstairs Room over the skittle alley. Unfortunately the absence of a Structural Engineer within the membership proved fatal. The joists decided that they could no longer take the weight of the wet sand and the increasing number of members, with a result that the ceiling collapsed sending tables and members into the skittle match in full swing below. Fortunately there were no fatalities but the Landlord decided that the Club was surplus to his requirements and a move was made to the Albert Inn, Street, Somerset where wisely accommodation was taken on the ground floor. From here it moved to the Globe Inn, before settling in at Seager Hall, Wells where it has remained ever since.
Today there is still a wide variety of games being played each week and you are likely to always find a space on a game if you are new to the club and want to join in. There are a number of regular Warhammer 40k, fantasy and historical players, plus a Warhammer Kill Team League which kicked off in 2019.
Board Games are also very popular with many members partaking in legacy based games such as Gloomhaven and Charterstone. Miniature based board games have grown in popularity in recent years such as Zombicide, Scythe, Star wars imperial assault, Blood Rage (a club favourite) and most recently U-Boot. We are always looking for new members to grow and expand the club and the games on offer each week, if your new to gaming, new to the area or just fancy joining like minded people in the pursuit for tabletop glory, please go to our contacts page.